Diving Deep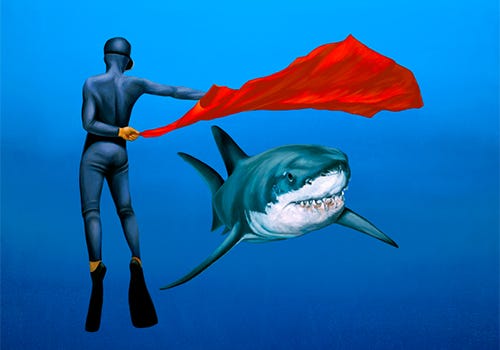 Corrida, The Matador by Pascal Lecocq
Looking at Pascal Lecocq's work is like diving into a surrealist, underwater world, where waltzes, rock concerts, and classroom lessons all take place on the ocean floor.
But the artist, known worldwide as "The Painter of Blue," has never ventured underwater himself.
"I'm not a diver even though most of my artwork depicts scenes with divers," he said. "I lost an eardrum to otitis as a very young kid and never got it fixed. Now I simply put a plug in my ear when I go swimming or snorkeling, but I cannot scuba dive."
Born in France, Lecocq said he's always been connected to water. He moved to Florida in 2003 and starts each day by dipping his feet into the ocean. But his underwater paintings began as a playful way to depicts divers, instead of a desire to dive himself.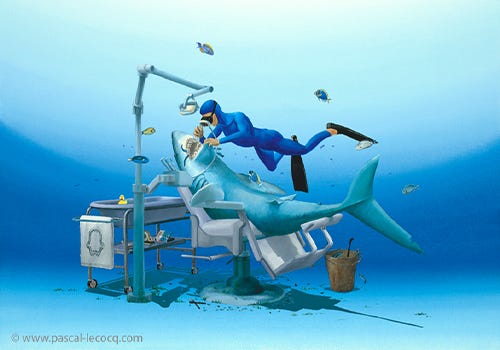 Carie Profonde by Pascal Lecocq
"I was not really connected to the undersea world in my youth," he said. "I did not learn about the famous French diver Jacques-Yves Cousteau until I made the first public exhibition of my underwater work in Paris in 1992. The character of the diver was a surreal character I started to use before knowing about the underwater world, and I kept playing with it for my pleasure."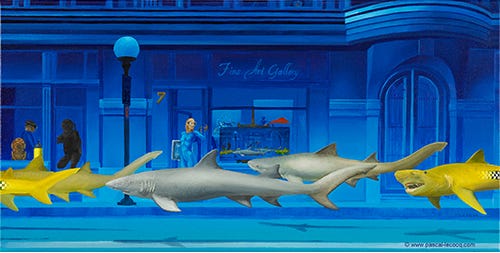 By Pascal Lecocq
As a child in Fontainbleu, France, Lecocq studied violin and went to art school in the evenings, but said he never considered art as a career until he saw Salvador Dali's 1940 painting Slave Market with the Disappearing Bust of Voltaire as a teen. He went on to produce his own works in earnest, organizing his first exhibition at age 18.
"I was so impressed that I knew the real word wouldn't be able to stop me to carry on and to paint forever," he said of the Dali painting.
Lecocq said he was drawn to ocean and sky scenes because they differed so much from the green forests he was surrounded by growing up.
"Blue is the color of space and freedom," he said "I have barely scratched the surface of this color and won't soon stop using it."
Currently, Lecocq is working on his ocean scenes and making improvements to costumes and sets he designed for a production of Mozart's "The Magic Flute" which returned to the Opéra de Nice in September. He also volunteers with nonprofits focused on art for children and shark and coral conservation.
Lecocq in front of his artwork
He's been ordering from American®Frame since 2000 when he first began exhibiting his work in the United States and needed an American supplier with a strong online presence so he could order while working in France. He now trusts us with his prints and uses the Nielsen® Radius Colorcast Metal Picture Frame in Cobalt Blue as well as Indigo along with the Bainbridge Papermat Fabric White Mat Board.
"The quality never failed, as well as the service," he said. "That was impressive back then, but may be even more today. Sadly, I have seen the falling of customer services in every single other place I used. I'm still astonished at American Frame's performance."
He advises new framers to have fun and order full-size samples of picture frames and prints, especially before an exhibition.
"Order one full-size sample to see if it's exactly what you expect, correct and reorder a sample if needed, then reorder in bulk," he said.
For help with your next framing project, contact our in-house framing experts.