Cotton rag & alpha-cellulose: Two of the world's finest matboards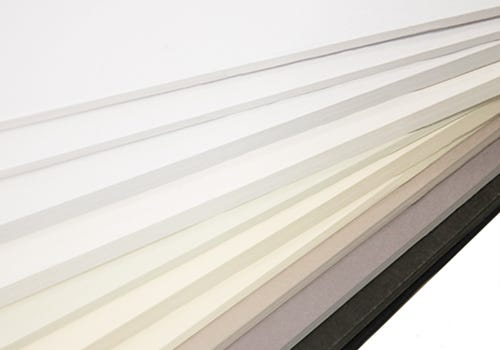 They're two of the best mats known to matkind, and among the most important picture framing supplies we offer at American Frame. Here's what makes them great.

Cotton rag matboard
Sounds like a fabric, "cotton rag," but it's not. This framing matboard – also called "museum board" – is one of our finest custom mats for frames. It has a rich, vellum finish that's smooth to the touch and the eye. It's also strong, durable and built to endure.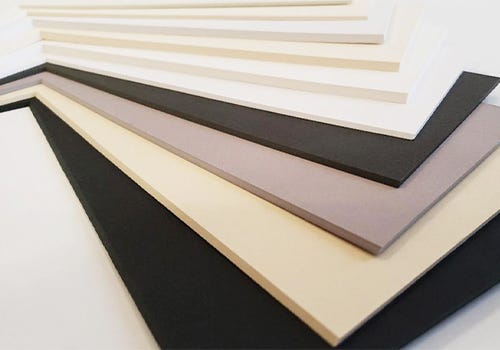 Plenty thick, and reversible.
Cotton rag matboard comprises four layers, or plies, of the same material (a single ply is 15 points, or 15/100 of an inch). That means color is consistent and uninterrupted throughout – front, bevel, and back – so either side of the board can be visible to the viewer of the artwork. Cotton rag, produced from the pulp from cotton linters, the short fibers that adhere to cotton seeds in the ginning process, is one of the finest and most popular mat boards available at American Frame. Among our art conservation supplies is Bainbridge Alpharag® Artcare™ conservation mat board.

Artcare™ technology preserves the priceless
Artcare technology absorbs acids and pollutants that can damage your frame treatment. In fact, Artcare is used to help preserve museum pieces all over the world including invaluable American artifacts in the Library of Congress, George Washington's last will, and the Wright Brothers' drawings. Read more here.

Alpha-cellulose matboard
This is another top-shelf matting solution we proudly offer at American Frame. Alpha cellulose matboard is produced using purified wood pulp fiber, from which all lignin and short cellulose fibers have been removed. Also referred to as "conservation board," this matboard consists of three layers. It makes for a very substantial frame system.

Alpha cellulose matboards usually feature a colored surface paper, white core board and white backing paper (printing and silk screening techniques can create even more surface colors and textures). This combination allows for a clean, white bevel to separate the mat from the actual artwork. Color cores are also available. They can have a vellum (smooth) or textured surface.

Bainbridge Alphamat® Artcare™ conservation mat boards are alpha-cellulose and present fine art and photography in their finest light. These boards are acid-free, lignin-free, and bleed-resistant. They keep foreign substances and acidic gases safely away from artwork. Read more here.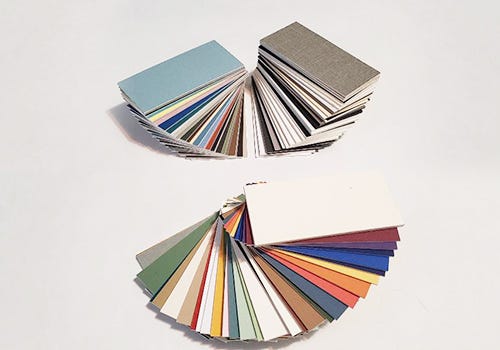 And consider this: Before you decide between which mat boards are right for you, order a set of our mat samples (including our new corner samples) here.