Artist Profile: Andrew Shurtleff
He has a soft spot in his heart for lightning.

As a kid, Andrew Shurtleff liked to sit on his front porch to watch when the storms rolled through "Lightning Alley" – the area from Tampa to Orlando, the city where Andrew grew up. Storms were Andrew's first significant interest in nature, which is the subject of much of his photography today.

His mother worked at the Maitland Art Center, north of Orlando. Andrew regularly attended openings of new exhibits, so he had plenty of exposure to art. In high school, his sister Kate gave him his first camera for a photography class. One assignment was to shoot things in his yard. Andrew's image of a tree shooting straight up between surrounding trees won top prize in the student category of the art show at Rollins College in nearby Winter Park.

At another art show, Andrew struck up a conversation with Clyde Butcher, the large format-camera photographer known for his black-and-white shots of Florida wildlife, most notably the Everglades. Some of Butcher's negatives were huge, 12" x 20". This enabled him to make prints with amazing tonal range of up to 6 feet x 9 feet.

Today, Andrew lives in Charlottesville, Virgina with wife Mai and children Ava, Cooper and Cohen.

American Frame: Where did you go after high school?

Andrew Shurtleff: I attended Florida State University, where I got a degree in economics, with a minor in business. I took as many photography classes as I could. I worked at the student newspaper, the Florida Flambeau, and fell in love with documentary photography. I became pretty good at shooting live events. I'd practically forgotten about landscape photography. Then, the university hosted an Ansel Adams exhibit. I spent hours analyzing his larger-than-life-sized prints, marveling at the clarity and tonal range of the images. Soon, I started shooting landscapes again, in the nature areas around Tallahassee. I experimented with different types of 35mm film: black and white, color, infrared. For a college student on a budget, it was expensive.

Back then, I didn't achieve a good tonal range like my heroes, Ansel Adams and Clyde Butcher. Eventually, that would change.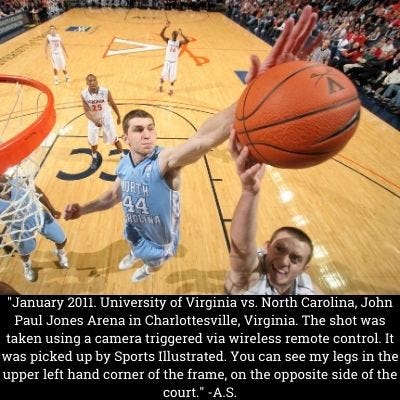 University of Virginia vs. North Carolina basketball game
American Frame: When did photography become your career?

Andrew Shurtleff: After graduating from FSU, I got a job as a photojournalist in Panama City, Florida. I spent most of my time shooting nature. My shots would run in the paper as single feature photos.

After that, I worked for a newspaper in Charlotte, North Carolina, covering bigger events like NFL games, NASCAR, and national news stories.

A few years later, a job opened up in Charlottesville, Virginia, where I was the director of photography at the Daily Progress newspaper.

Charlottesville was and is the first place I felt at home since my time growing up in Orlando. Here, I reconnected with landscape photography and began my career as a freelance photographer. The University of Virginia is in Charlottesville, so I had everything I needed to become a successful photographer. The surrounding Central Virginia landscape more than filled my need for nature.

American Frame: What's the key to your success?

Andrew Shurtleff: The diversity of my work.

I've photographed U.S. presidents, national championship college sporting events, and numerous national news events, including the dreadful Unite the Right (white supremicist and neo-Nazi) rally in 2017. The photo of white men holding torches in front of the Rotunda at the university – a UNESCO World Heritage Site – is mine. I also freelance for the New York Times and other news organizations across the country.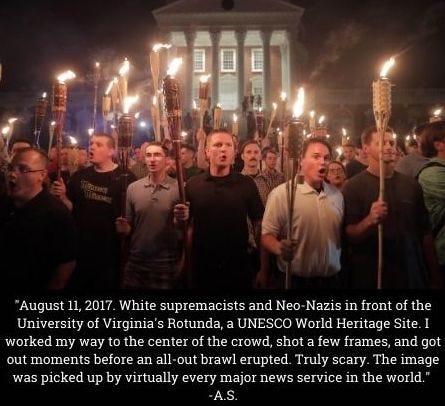 White supremacists at the University of Virginia's Rotunda
As a commercial photographer, I work with advertising agencies, foundations, architectural firms, and high-end real estate firms. My specialty is creating lifestyle imagery for businesses and advertisements. I'm good at connecting with people and making them comfortable in front of the camera. I also have 15,000 stock images available for sale on my website, and through national stock photography agencies. My images have been used for local and national advertisements, magazines, book covers, and websites, and are purchased as artwork. Five years ago, I started teaching myself to shoot video. I created a vlog (video blog.) This has brought more diversity to my overall work and given me a new perspective on shooting. It's also brought a whole new clientele.

As a landscape photographer, I connect with nature photographing mountain landscapes on the Blue Ridge Parkway, wildlife, and intense weather. I use a variety of techniques. My favorite is shooting infrared photography. In college, infrared film and processing was difficult, and expensive. Now, I'm on my third digital camera, which has been converted so it shoots only infrared. It allows me to finally create black and white landscapes with the depth and tonal range I've wanted since college. Modern technology has also allowed me to make larger prints. I shoot 10 to 12 images of one scene, and blend them using photomerge in Photoshop. Like Clyde Butcher's large negatives, I have a digital negative four to five times larger than from the camera's sensor, which allows me to print clear images of up to 80 inches. My landscape work has been in several gallery shows and is sold in select area furniture stores.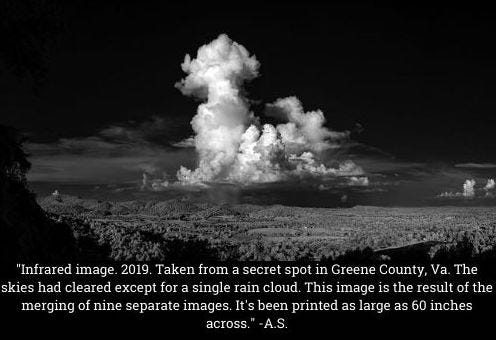 Greene County, Virginia
American Frame: What are the favorite shots you've ever taken?

Andrew Shurtleff: It depends on the time, my mood and what I'm currently shooting. I love the raw emotion from shooting sports. Telling an entire story using a single photograph can be very powerful. I love when we're working with a large group on a commercial shoot and everything comes together for that perfect moment. I love it when I'm shooting a storm and I get the perfect lightning strike. I love it when I'm driving aimlessly down country roads, not knowing what I'm looking for. Then, I see it. The light, clouds, road and landscape, all in a perfect position. Getting the shot before the clouds move. These are fist-pump moments.

American Frame: When did you first work with American Frame?

Andrew Shurtleff: When I started to participate in art shows, a friend suggested using American Frame. As a young artist, their prices couldn't be beat and the diversity of services made them a one-stop shop. At first, I ordered frames and assembled them myself. It was cost-effective and, more importantly, simple. I always have a lot going on in my life. Simplicity is key. I've used American Frame for 15 years. This year, when I was hired to create images for a high-end hotel, the natural choice for framing was American Frame. With this project, they've been there every step of the way. They're doing everything: printing, matting, and framing over 100 images. The proofs for the images look amazing. The frames will be delivered ready to install, with all the necessary hardware already attached.

American Frame: What advice would you give aspiring photographers?

Andrew Shurtleff: I promote myself through my website, but more importantly, I'm constantly reaching out to current and potential clients. Most photographers think that once they put up a website, clients will find them because their work is good. That's often not the case. I'm constantly making cold calls to potential new clients or sending emails to let current clients know what I've been shooting. Also, attitude is everything. A bad attitude can turn off new or potential clients. Remember, it's not just your work they're looking at. They're also evaluating you. If a client wants to hire a photographer for an all-day shoot, they're thinking two things: Who is a good fit for this job; and who do I want to spend a whole day with.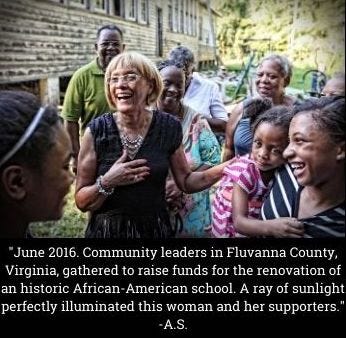 Community leaders in Virginia
American Frame: What else do you do when you're not behind a camera?

Andrew Shurtleff: The other love in my life – besides my wife and kids – is skateboarding. I've been a skateboarder for over 30 years. It's the one thing that truly clears my mind. When I'm riding super-fast around the walls of a pool, it's like meditation. My only thought is survival. The skateboarding community has always been welcoming, diverse and supportive. Anywhere in the world, I can go to a skatepark and instantly make friends. As for skateboard photography, I'm really bad at it. I'd rather be on the board instead of holding a camera. Taking photos is a lot like skateboarding: when I get in the zone, I'm laser-focused and I see things clearly. When I get the shot, it's like making the trick. I usually let out an audible "yeah" followed by a fist pump.