A Layered Perspective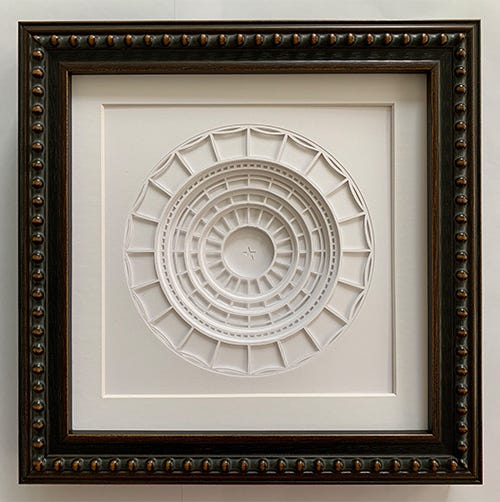 For artists, a blank sheet of paper is a world of possibilities. With a brush or pencil, they can bring the images in their minds to life.

But for Margery Couper McDonnell, the page isn't just the base for the art. It's art itself.

The Virginia-based artist has been creating layered paper sculptures since 2013.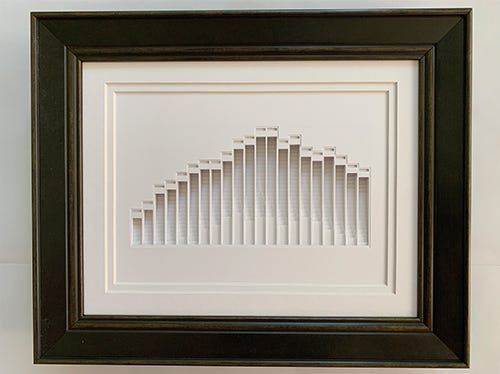 "It's really fun to carve away at something as ubiquitous as a stack of plain white paper and turn it into something beautiful," she said. "I also really enjoy that 'figuring it out' step in layered paper sculptures - how are the layers going to work? Where will the cuts be? How many layers will I need? Paper requires you to be meticulous and slow, so it feels very mentally satisfying to work through a piece."

She was first inspired to create paper sculptures after one of her pregnancies. She was taking a break from the cello, which she'd played since she was 8, and found herself starving for a creative outlet.

"I was in Union Station in Washington, D.C., which has gorgeous stonework," she said. "I thought it was so beautiful and it struck me that it would look lovely as a paper cutting. I hadn't made a layered paper cut before, though I'd made a lot of paper cuttings. I gave it a shot and haven't turned back since."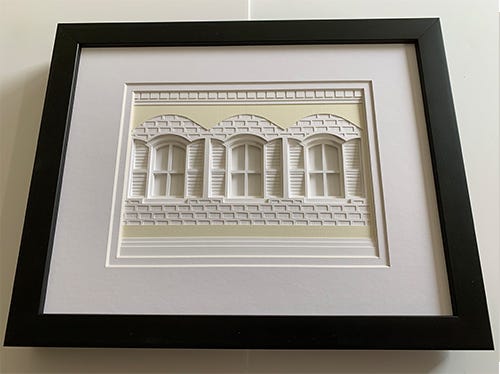 She draws inspiration from classical and neo-classical architecture and spends plenty of time on the online the National Register of Historic Places searching for her next subject. Currently, she's working on a recreation of the 18th-century pirate ship Queen Anne's Revenge and the U.S. Capitol Building. When she needs a break, she says, she creates paper sculptures for the playroom shared by her three children.

"I like making pieces that people have a personal connection to - pieces from a place in the world that means something to you," she said. "I especially enjoy this layered, 3-D sculpture format because it makes me feel like these buildings are more real. And that's what I want hanging on my walls - something that brings me back to a place that is special to me."

She's been using American® Frame for frames for several months.

"Because it's challenging to frame a stack of paper, I nearly always sell my art already framed so that I'm not passing that responsibility on to my customer," she said. " My pieces need frames in a variety of depths, depending of how many sheets of paper I use, and American Frame not only has a variety of depths but also lists the exact depths on their website."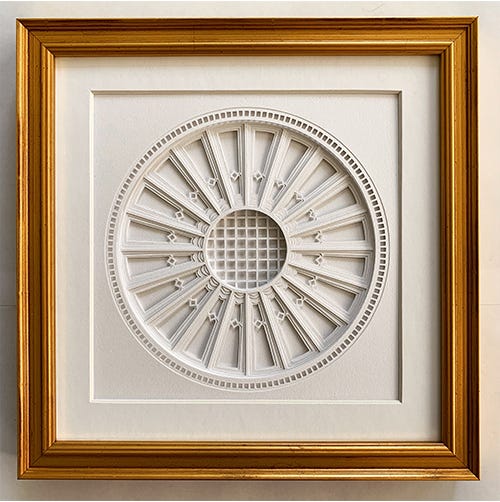 She said she also loves the variety of frame styles and colors available from American Frame, though her favorite is the elegant Brushed Gold Wood Picture Frame from the Econo-Wood Collection.

"Since I usually work all in white, I like to play with color and texture on my frames. American Frame has checked all the boxes for me for what I need," she said. "On the rare occasion that I sell a piece without a frame, I tell my customers to go to American Frame."

She urges new framers to ask plenty of questions and order a corner sample of the picture frame they're considering.

"It's incredibly helpful to hold the frame sample up against your art and see if they truly work well together," she said.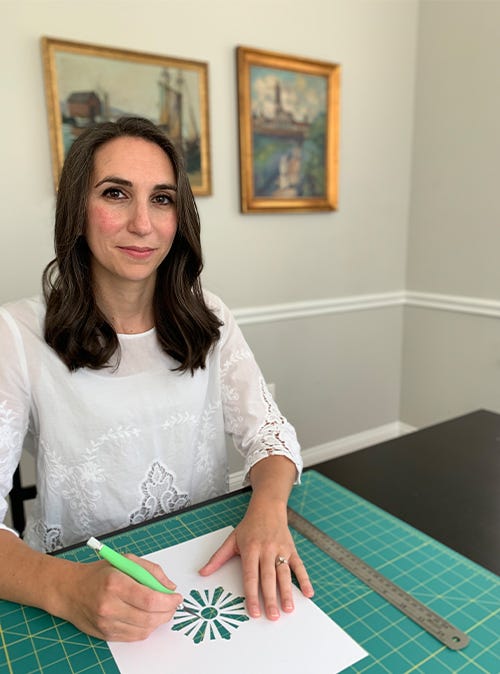 To see more of Margery's art, visit her Etsy shop.

Need help framing your next piece? Try our free Art Assistant™ program.